Political situation:
President Maduro has led a socialistic authoritarian rule since 2013, taking power following the death of former president Hugo Chavez. The country has been in a political and economic turmoil since 2010, which has also resulted in a humanitarian crisis with over 3 million people displaced. Inflation has spiked, resulting in political protests and suppression. This has led to the current situation.
Juan Guaido, the president of the Venezuelan national assembly, declared himself the president of Venezuela on 23rd January. He has been recognized as the interim president by the US, EU, Canada as well as most of the Latin American countries. However, Russia and China and its allies still support Maduro. Although several key military figures have defected from Maduro, he still controls the military. This is showcased through the ongoing and all-encompassing military exercise that reportedly involves 50 000 persons.
The US president has suggested the possibility of a military intervention, but this seems unlikely as of now. Maduro is dependent on international support. Should this support shift or disappear the political situation may change rapidly. This could have security implications for the country.
Maritime security incidents:
The maritime security situation in Venezuela has over the last years been dominated by boarding for theft in some ports. Incidents reported in since 1st January 2018 up until today can be seen in the map below: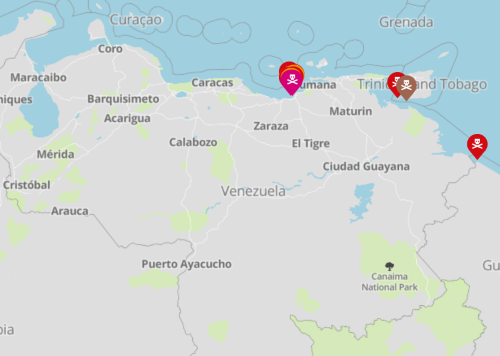 Source: RiskIntelligence
In 2018, there were 13 successful and attempted boarding of larger commercial vessels. All incidents occurred off the port of Barcelona. There has been a steady increase in boarding for theft off Barcelona port. There were 11 such incidents in 2017, 5 in 2016 and 1 in 2015. These figures are based on reported incidents by RiskIntelligence.
So far in 2019, there have been two boardings for theft, of which one was a failed attack.
There have been no reported hijack or violent attacks against larger commercial vessels off Venezuela. However there has been an increase in attacks against local fishermen, particularly in the area between Venezuela and Trinidad and Tobago.
Disputed areas:
Note that the border between Venezuela and Guyana is disputed by Venezuela which claims the Essequibo region which lies in Guyana. Please see the map.
The border dispute has a maritime spill over effect due to the oil exploration activity off the coast of Guyana. As late as December 2018, a Norwegian controlled vessel operating off Guyana was approached by Venezuelan navy. For more information on this incident please see here.
Sanctions:
The increased tension between the Trump administration on Maduro have resulted in newly US imposed sanctions. The sanctions are mainly targeting the Venezuelan national oil and gas company "Petróleos de Venezuela". The new sanctions prohibit US parties and affiliates from dealings with the company. There is a wind-down period lasting until 28th April 2019, meaning that certain transactions are allowed up until this date but will be prohibited thereafter. For more information on the new sanctions, the OFAC FAQ is useful. It can be found here. It also answers questions on sanctions that were implemented in 2017.
The EU has not introduced any new sanctions against Venezuela since November 2017. The EU current EU restrictive measures include an embargo on arms and on equipment for internal repression as well as a travel ban and an asset freeze on 18 officials responsible for human rights violations and for undermining democracy and the rule of law in Venezuela. These are included in Norwegian law and can be found here.
NSA assessment:
Currently the biggest concern is the region is the unstable political situation and consequences thereof. Particularly the tension between sitting president Maduro and the United States can develop negatively.

Vessel arrest is not a new problem in Venezuela and is still a possibility.

Robberies at anchorage may occur so vigilance in and near ports is advised. Robberies have, to our knowledge, had limited impact on crew and operations.

Violent incidents have occurred at sea, but are largely related to local conflicts. So far only smaller local vessels have been targeted. There have been no incidents involving larger commercial vessels.

Sanctions are in place, a due digilence is advised when doing operations in Venezuela.
Your comments and questions are welcome.
With kind regards
Norwegian Shipowners' Association, Security and Crisis Response
beredskap@rederi.no
Crisis Management Support +47 90095001