Situation update
In the recent two months there have been 8 attempted and successful attacks off the Somalian coast by what is most likely Somalian based pirates. There is presently limited information on the groups, however it is clear that they have an intent to attack vessels sailing in the Gulf of Aden and along the Somalian coastline.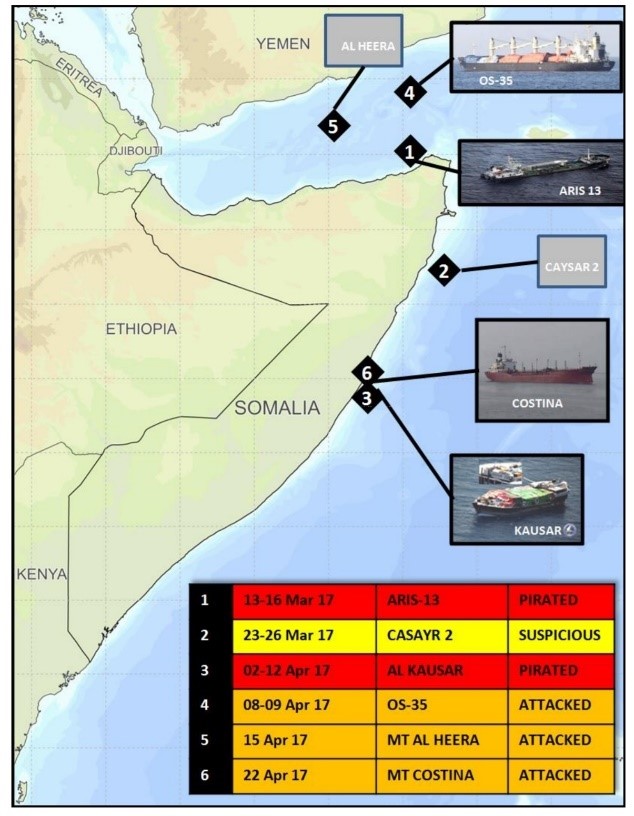 Source: EUNAVFOR
The majority of the recent 8 attacks have been against smaller vessels with low freeboard, sailing close to shore with no or limited security set up. However, there has been one successful boarding of a large bulk ship with BMP4 measures in place, the OS-35. So far no vessels with armed guards have been successfully attacked by Somali based pirates.
Industry threat assessment
An updated industry releasable threat assessment has been written by EUNAVFOR and can be found by logging in to the MSCHOA website: http://www.mschoa.org/. Here you will also find updated information on convoys through the IRTC as well as other useful guidance for the region.
Way forward
As a result of the situation off Somalia up until 2012, there are several mechanisms in place such as the CGPCS, Shade, local independent marine deployments, reporting centres. It will be important in the time going forward that all parties work together to ensure that there are no successful attacks with a ransom payed in the near future as this may inspire new attacks in the post-monsoon phase.
Your comments and questions are welcome.
With kind regards
Norwegian Shipowners' Association, Contingency Planning Department
beredskap@rederi.no - Crisis Management Support +47 90095001