Members estimate virus outbreak could result in 35% drop in turnover
Based on a survey among our members, Norwegian shipowners fear a decline in turnover of nearly 35 percent as a result of the coronavirus outbreak. This amounts to more than NOK 83 billion and reduces the forecast for total turnover in 2020 from NOK 244 billion to NOK 161 billion.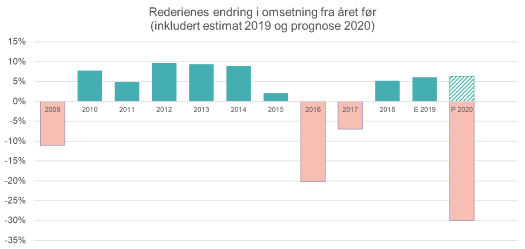 This decline will be by far the biggest in the last 15 years - financial crisis and oil crisis included. This is because all segments expect a decline in revenue at the same time. Previously, the decline in turnover in one segment has been outweighed by upturn in another.
"These figures clearly illustrate the seriousness of the situation for our industry," says Harald Solberg, CEO of the Norwegian Shipowners' Association. -A 35 per cent decline in turnover would be dramatic. It is essential that we find good solutions to keep shipping going through the crisis," he says.
Passenger vessel companies hit especially hard
The biggest effect is on passenger ships, which are preparing for a 90 percent reduction in turnover for 2020. The coronavirus outbreak also appears to have major consequences for the offshore segments. Offshore service companies expect a turnover decline of around 25 percent. The rig companies expect a drop of close to 30 percent.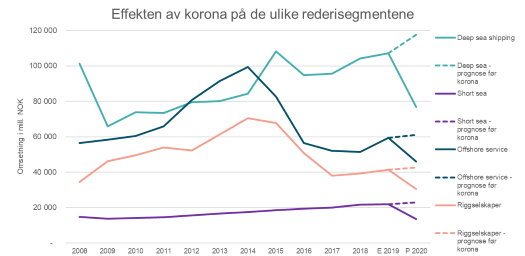 Such a decline will be significantly larger than the decline in 2015 - which constituted the first year of the oil crisis, and roughly in line with 2016 - the second year of the oil crisis. Here, there is reason to believe that the very low oil price also affects the numbers given by respondents.
Deep sea shipping members estimate that turnover in 2020 will be about 35 percent lower than in 2019. This decline is as great as the decline that came in the wake of the financial crisis in 2008/2009.
Short sea shipping companies seem to have been hit least severely, compared to the other segments. However, the decline indicated by short-sea members is expected to be about twice that of 2009, during the financial crisis.
Shipping companies fear operational challenges may increase further
Virtually all shipping companies have experienced operational challenges as a result of the coronavirus outbreak. Crew changes have been a key obstacle and are expected to continue to be very demanding. A large share of member companies has chosen to extend contracts with existing crews. These extensions are running out, and soon the need for crew changes will become critical. Shipowners fear that the operational challenges will increase substantially in the time to come.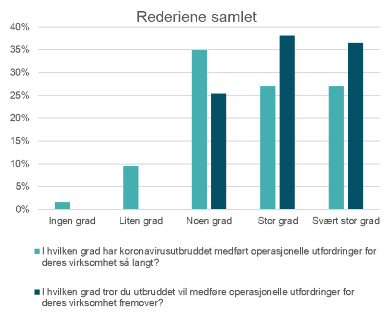 With over 1800 Norwegian ships making port calls all around a globe that is increasingly shutting down, there is reason to believe that moving crews across borders will only become more difficult. The lack of coordination in quarantine requirements at the international, regional and national levels is complicating this further. This will probably be one of the most demanding issues shipping companies face, unless international guidelines are put in place for crews to travel freely. It is also crucial that time spent at sea should count towards quarantine requirements for crews, meaning healthy crews that have had not a had chance to land for 14 days should be considered disease-free.
For the passenger vessel companies, the operational challenges are mainly related to the authorities' travel restrictions, stopping virtually all passenger transport in and out of Norway. These companies have seen their revenue base fall away overnight, while customers are entitled to having ticket expenses reimbursed. With other fixed costs running as normal, the government-imposed travel restrictions have put these companies in a challenging liquidity squeeze.
50% of shipowners may have to temporarily lay off staff in the next two weeks
The significant operational and financial consequences for shipping mean that about half of the shipping companies now state that they may have to lay off employees within 14 days.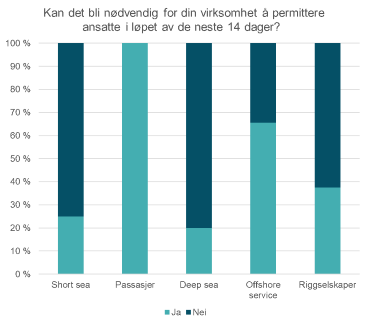 As a result of vessels being taken out of service, the passenger shipping companies have already temporarily laid off a total of about 5,200 employees.
Offshore shipping companies also seem like they may have to consider lay-offs. As many as two out of three offshore service companies state that it may become necessary to lay off employees. For the rig companies, about 40 per cent state the same. This is probably due to a combination of the historically low oil price and the corona crisis.
* A note on graphs - provided here in Norwegian while English slides are being developed.